(above) Higgihaus's alcohol-free foam dispenser and Alcohol hand gel, branded and supplied by us.
Higgihaus Hausmates Clearly Protected…
Higgihaus launched in 2017 with their first Co Living property, and have continually grown ever since while winning a number of industry awards.
With the arrival of the Covid-19 pandemic Higgihaus wanted to provide a hand-sanitising option as a courtesy for each of their hausmates and guests. Founder and CEO Luke Spikes told us…. .
"We were keen to demonstrate that their safety when staying at any of our properties was of real and genuine concern to us. We also wanted to ensure that whatever solution we chose to implement, consistently delivered against our brand values and aesthetic. Not easy when the problem is hand-sanitisation!". 

"In the end, it was Clear Protection that came to the rescue.

We have now implemented Higgihaus branded, wall-mounted dispensers adjacent to the points of entry in all of our properties. Rather than being alcohol-based, the dispensers use alcohol-free foam, which is more gentle to our hausmates and guests hands as well as our wallet. Particularly important when purchasing at volume.

We were reassured by the technical literature that evidenced the alcohol-free foam to be proven against COVID-19 (and other viruses). We also provided each of our hausmates with a branded pocket-sized dispenser, a larger refill (also branded) and their own cotton, washable face mask (in Higgihaus orange naturally).

Needless to say, hausmates and guests were delighted. Job done thanks to Clear Protection".
This is just one example of how we can help. Combined with our creative services at Clear Branding, we have a unique ability to supply a wide range of traditional and modern branding methods applicable to any number of our sanitising products. If you have a branded product idea and are looking for the perfect company to work with, we would love to hear from you… For further details see www.clear-protection.co.uk
(below) shows the Home page of Higgihaus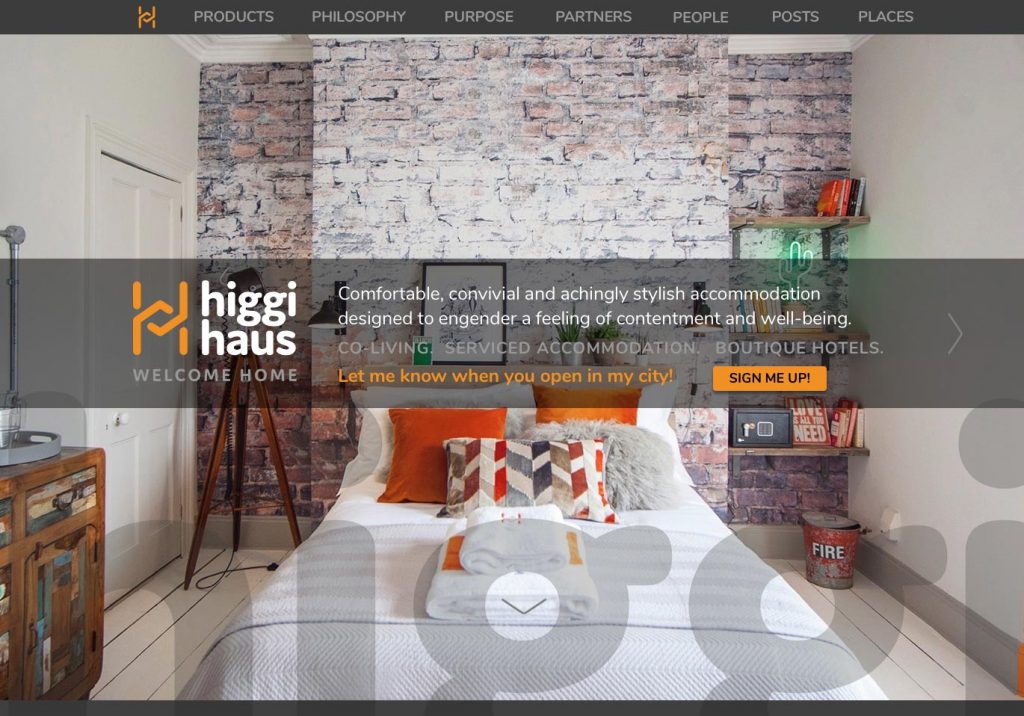 Get In Touch With Us