Banner Base
ALCOHOL HAND
SANITISER GEL
Banner Base
UK Made Products
UK Sanitiser In Stock
UK Company
Alcohol Hand Sanitiser Gel
Our UK manufactured antibacterial hand sanitiser gels contain 70% alcohol which kills 99.99% of bacteria and viruses. In line with Government recommendations, frequent cleaning of hands helps to prevent you picking up coronavirus from a contaminated surface and then infecting yourself by touching your eyes, mouth or nose. You can have coronavirus but not display any symptoms, so good hand hygiene has an essential role to play in preventing the spread of the virus.
Our WHO approved hospital grade 70% hand gel comes in a variety of sizes to suit all personal and business uses. The small portable bottles are ideal to carry around with you when you go to work, shopping or walking the dog. Larger alcohol hand gel bottles and dispensers are more economical and these are ideal for use in shops and offices.
Delivery: Our products are dispatched from our UK base using a DPD tracked service. please note that the delivery charges are based on product weight which starts at a minimum of 1kg. We recommend you purchase more than one item at a time or a selection of items which will give you the most cost effective delivery charges. If you are unsure please contact the team and we will be happy to help you.
Labelling Options: Bespoke Label options available – have your company branding on your products or use our standard labels. Design service available, please contact the team for more information.
What Our Customers Say:

We had a conversation through telephone/email with Clear Protection, They were quick to respond to our needs, and went out of their way to get the items delivered to our business on time!

SES Hereford Ltd
Supporting Kemp Hospice
Purchase of these products will help to support Kemp Hospice. Clear Protection is donating 10% of all profits to the hospice based in the heart of the Wyre Forest, KEMP Hospice provides a wide range of services, free of charge, to the people of Wyre Forest. We support individuals, families and carers experiencing life limiting conditions and through bereavement.
Life limiting conditions include heart disease, lung disease, kidney or liver failure, cancer, Motor Neurone Disease and, often, a combination of conditions which are limiting life expectancy.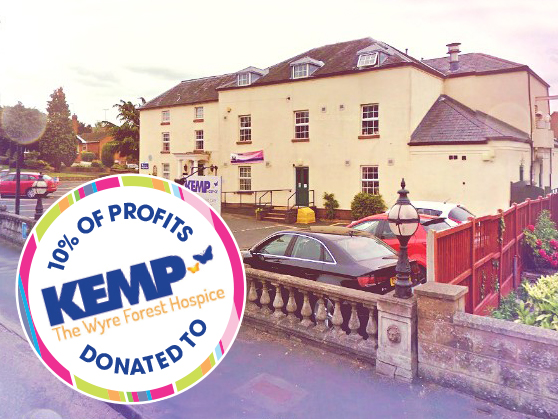 DIRECTIONS: Rub a small amount onto dry hands and lower arms until completely dry. Not to be used as a replacement for the washing of hands with hot water and soap.
ACTIVE INGREDIENTS: Minimum 70% Ethanol, 2-aminoethanol, Glycerine, Alcohols C11-14-iso, C13-rich, Ethoxylated, Cyclohexane.
STORAGE: Keep away from flames and heat sources. Store at room temperature out of direct sunlight. Keep out of the reach of children.
WARNINGS: For external use only. Do not swallow or inhale. If swallowed rinse mouth and seek medical advice, do not induce vomiting. Avoid contact with eyes, if in eye rinse with water for several minutes. If irritation persists seek medical advice. If medical attention is required have container or label to hand.